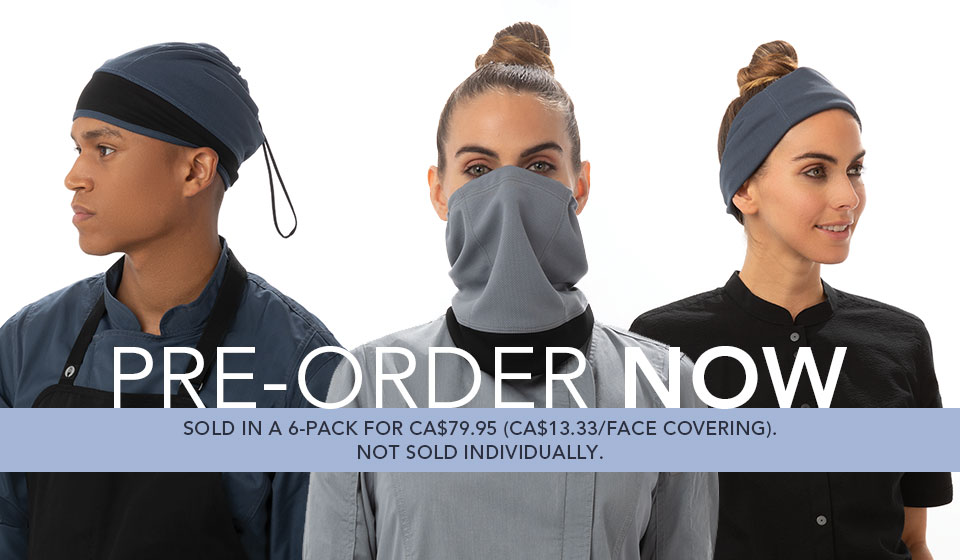 The SKILD Series™ is expanding! And it's more versatile than ever.
Chef Works Canada is proud to announce the launch of the SKILD Series™ FC4, a multi-dimensional face covering with hybrid functionality.
The FC4 joins the FC1 and FC3 face coverings, which were launched last month. All three models bring unique advantages thanks to their individual designs.
The FC4 is certainly the most versatile of the bunch because it can be worn four different ways.
For starters, it's a "Gator" style face covering that is worn around the neck and can be pulled up over the face and nose. An adjustable toggle ensures a comfortable and secure fit. This is a great option for chefs who need quick and convenient access to their noses and mouths to smell and taste food. It's also an excellent choice for servers and bartenders, who may need to raise and lower their face covering numerous times throughout their shift.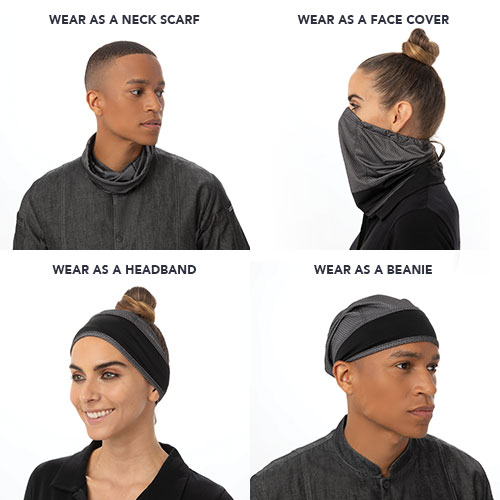 But the FC4's convenience doesn't stop there. It can also be a beanie, neck scarf and head band — depending on user preference.
The FC4 is available now for pre-order with shipping expected at the end of this month. They are available in packs of six for $79.95 ($13.33 per unit, not sold individually)
Like the other products in the SKILD Series™, the FC4 face covering goes above and beyond most "masks" that are on the market. Working in conjunction with hospitality leaders all over the world, Chef Works crafted the SKILD Series™ to work across any number of industries. And because all styles pair with Chef Works apparel offerings, they will integrate seamlessly into any dress code or uniform program.
The SKILD Series™ will be expanding even further in the near future, with additional styles in pre-production.
These face coverings are not surgical masks or for other medical use and are not approved by the Canadian Government's health agencies to serve as any other type of medical-grade mask. However, the Canadian Government has advised that "wearing a non-medical mask/face covering is recommended for periods of time when it is not possible to consistently maintain a 2-metre physical distance." Other international agencies have advised the use of a simple cloth face covering to slow the spread of viruses and help people, who may have a virus and do not know it, from transmitting to others.
See the individual product pages for the full disclaimer.
All coverings will be individually wrapped to maintain hygiene standards.