Chef Iniyan Vijay is on a non-stop learning journey. To this day, this journey has taken our latest Chef of Chef Works from India to Canada, as well as from a baking and pastry BHM student to becoming a Chef De Cuisine at Hockley Valley Resort. Chef Iniyan Vijay shows us that hard work is a key ingredient for achieving dreams.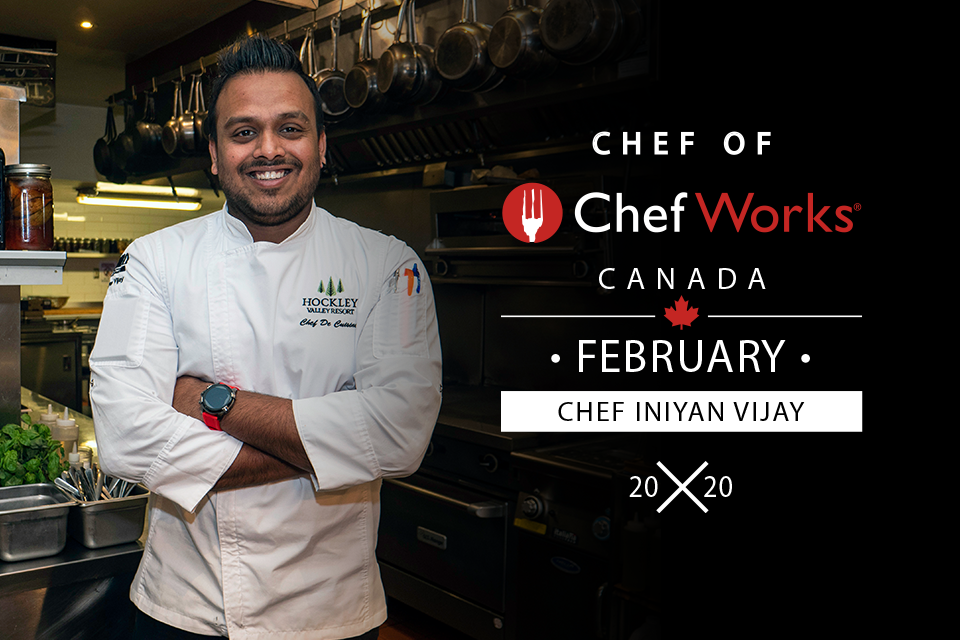 Tell us about your early journey into the culinary industry…
I started my career back in 2003 with my Bachelors in Hotel Management specializing in Baking and Pastry, and then a Post Graduation Diploma in Advance Food Preparation. During my university days I worked and gained experience with some big brand hotels in Asia such as the Oberoi Group, Radisson, ITC Maurya & Sheraton, Taj Group of Hotels etc.
After my graduation and post-graduation, I joined The Taj Group of hotels, working as a management trainee chef with the 5 star luxury brand hotels across India. I then moved my career towards restaurants and worked as Executive Chef for restaurant chain P.S. Food & Beverage.
At this point in my life I wanted to study more and I came to Ontario. I attended Georgian College and finished my Culinary Management. I worked in Muskoka, Ontario, France and finally settled at Hockley Valley Resort & Adamo Estate Winery.
What is your cooking inspiration?
Cooking is an art and I was inspired by the art of cooking from very young age when I saw my mother or sister cooking. That inspiration, and what I've become is from the support and encouragement of my family, especially my sister.
How would you describe the dining experience at Hockley Valley Resort?
People who come here regularly can vouch for me when I say it's just an amazing experience. It's absolutely Farm To Table. It's a joy to cook here. We cook from scratch, and we see the customers return over and over again.
How would you describe your kitchen?
It is a place where we work like family. We take care of each other, create amazing food, and work really hard to give exceptional customer service. The kitchen is very disciplined while being a centre of learning, progressing, and enhancing skills.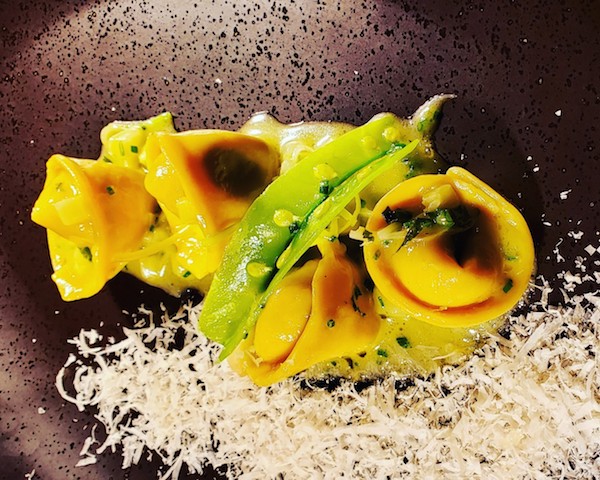 What is your favourite dish to cook?
I don't have favourites but I focus more on working with the ingredients that are used for making those dishes. Fresh pasta is high on the list.
What do you enjoy most about being a chef?
There are many things I enjoy being a chef, the team I work with, and the company I work for. Also, I enjoy using fresh ingredients, cooking from scratch, supporting our local community and Farm to Table.
As a chef, What do you stand for?
For me, it is important what we do is always do it right. I strongly believe in the integrity of food and the simplicity of food. Scratch cooking helps in preserving and utilizing what our land has to offer. I also believe in farm to table which showcases strong support the local growers and giving the customers the natures best product.
Favourite things to do when you're not cooking?
I love reading culinary books, and when in New York with my sister, I love exploring great restaurants in the city.
Your all time best culinary tip…
If you are creating/cooking/doing something, do it right or don't do it at all.
Learn more about Chef Iniyan Vijay from his social profile: